Chances are that this new "slap-stick comedy" with its attention getting but misleading title BULLET FOR ADOLF wouldn't be opening at the New World Stages had it not been for the name Woody Harrelson being attached as director and co-writer (with Frankie Hyman).  It's a shambles of a play, extremely profane without being the least bit profound.  And not very funny.  Unless pedophilia, Nazi and placenta jokes amuse you.
Those thinking that Mr. Harrelson is in the production will be disappointed.  But his distinct voice comes through as the laid back, pot smoking, shot swilling with a beer chaser character Zach (Brandon Coffey).  You can hear Woody's inflections coming through loud and clear.  Not that there is that much to want to listen to.  He does do a nice variation of the song "Happy Birthday".
It's the summer of 1983 in Houston, Texas.  The best part and most entertaining sections of the production are the video projections by Imaginary Media showing media clips, newsreels and commercials of that wonderful year that featured Ronald and Nancy Regan, Crack, Cheers, Vanessa Williams, War, Bill Gates, HIV, Mr. T. and Sammy Davis Jr. singing "I've Gotta Be Me" and lots more – a throwback to those "Wonderful Year" segments featured on the Garry Moore television show of the 1960's but have little to do with the plot.
There is also an interesting concept of having the actors appear on the screen in off stage locations which is a nice original touch.  The music (Sound Design – Brett Jarvis) that accompanies the videos projected on five large screens is also a plus.
But that's where it ends.  The play rambles on and on seemingly going nowhere but up in refer smoke.  Zack works on a construction site headed by the Germanic Jurgen (Nick Wyman).  The brash, always late and suited, Dago-Czech (Lee Osorio) is being replaced by the new Afro-American guy in town Frankie (Tyler Jacob Rollinson) a charming con artist from up North with a dubious past who becomes Zack's new roommate along with his existing one – an actor, the neurotic Clint (David Coomber) who prances around in his briefs with one of the most annoying braying laugh of all time.  They all shout at each other.  A lot.
Jackie (Shamika Cotton) works for the Houston Chronicle and meets Frankie when he goes for an interview and he pursues her hot and heavy.  Her girlfriend is the sassy and wise cracking Shareeta (Marsha Stephanie Blake).  Somehow they all get invited by Frankie to the 18th birthday party of Jurgen's daughter – Batina (Shannon Garland) who is the ex girl friend of Zack.
There is a gun – a German Luger that had a connection to Hitler.  It is owned by Jurgen and stolen by someone at the end of Act I.  Hence the title, which actually is a red herring.
One would have hoped that Mr. Harrelson would have learned more on the set of Cheers about comedy, character development and direction that are sorely lacking in this semi-autobiographical play of his friendship with Frankie Hyman way back when.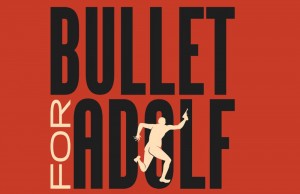 www.bulletforadolf.com     LIMITED TIME ONLY – through Sept.9th.   Photos: Carol Rosegg
Tags: No Comments