PREMIERE CAST RECORDING – WITH MEMBERS OF L.A. & NYC CASTS NOW AVAILABLE.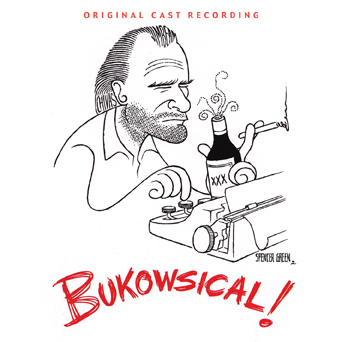 Winner of the New York Fringe Festival Award for Outstanding Musical 2007. 
Book and Lyrics Spencer Green & Gary Stockdale  Music by Gary Stockdale
When I read the announcement I remembered liking this show very much and the following is my original review.
Enjoy.  www.bukowsical.com   www.kritzerland.com
BUKOWSICAL! – Fringe Festival Participant – WOWSICAL!
Oscar E Moore from the rear mezzanine for Talk Entertainment.com
All it seems to take these days to become part of Broadway legend and lore is A: an unhappy childhood.  B: plenty of abuse.  C: plenty of alcohol and drugs and dirty words and most importantly, D: plenty of sex.  And more dirty words.  Oh yes, and about a half million dollars to produce said opus.  I almost forgot the all important E:  a good agent and the negligible F: talent.
Well, talent will out as proven on stage at The Bleecker Street Theatre where Bukowsical!  played to a SRO hyper excited audience.  Written by Spencer Green (who should have his mind washed out with soap and then congratulated for his obscenely dark sense of humor) and Gary Stockdale whose music is manically tuneful and extremely serviceable to the story as such there is a story, Bukowsical! has staked its claim on the New York theatrical scene. 
The octet of very talented actor/singer/dancers – dancing to the beat of imaginative choreographer Leanne Fonteyn and dressed simply and bizarrely by Gelareh Khalioun basking under the really great lighting of Jason Mullen under the non stop direction of Joe Peracchio (well he does stop in order to let Fleur Phillips – no she is not a stripper but a fine singer and actress as One True Love – belting out the wonderful "Remember Me".  That is, after a surprise arrival (house lights up please) of the dead serious dead pan New York lawyer (who happens to know musical theatre) representing the estate of the late Charles "Buk" Bukowsi which leads into the high point of the evening – a song which is an hysterical Ode to Los Angeles – comparing it to New York and winning out.  There is also a fog machine at work.  Brad Blaisdell is a perfect Bukowsi and Marc Cardiff is the perfect narrator cum fund raiser for the backer's audition of the show in question. 
It's an evening of uneven glorious fun.  It needs some fine tuning.  Biggest quibble: imperfect rhymes.  But the strange story takes hold and the performers win you over despite the drunken, derelict and degenerate life of a writer and poet unfolding and crumbling before our eyes.  The cast is triumphant and we wonder who will be next to be musicalized.  Sylvia Plath?  Well, she is already a character with one of the funniest lines of the show.  Be brave.  Do not be offended.  Find out what that line is.
Tags: No Comments