A.  Who is Bradley Cole?  B.  What is Bradley Cole?  B first.  BRADLEY COLE is a cute new feel good about yourself musical fable of and for today – reminiscent of shows written by Betty Comden and Adolph Green where they satirized with a warm heart charming their way into musical theatre lore with their abundant talent. 
Jason Young has written the amusing book and smart lyrics.  Bomi Lee is responsible for the catchy and perky tunes that are extremely well staged by Geoffrey Goldberg (director and choreographer). 
Now for A:  Bradley Cole is the alter ego of one Ian Maxwell a nerdy Woody Allenish type of guy (Remy Germinario) who wants people to notice him and to love him – but he is at a complete loss for words in public and so he creates a BLOG that instantly brings him one million followers with his quips and observations that spread like wild fire on everyone's cell phone, iPad, Facebook page and has them all a twitter trying to figure out who this newest super hero of the blogosphere is.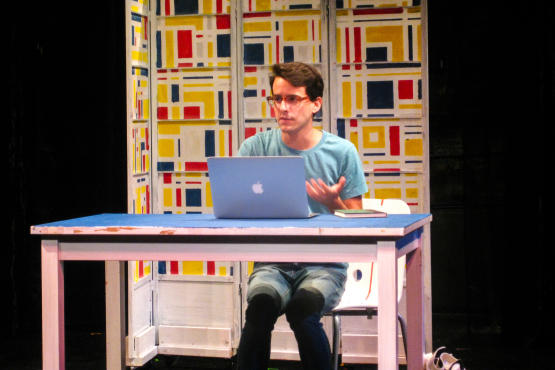 Garson Kanin came up with a similar plot with It Should Happen to You a 1954 movie starring Judy Holliday and Jack Lemmon where Gladys Glover rents a huge billboard and puts her name on it sparking interest and complications as with Bradley Cole.
Ian has a roommate – a childhood buddy Ben (hunky Justin Flexen) and there is more to their relationship than meets the eye at first.  Ben has just gotten a job on a live TV cooking show as "Cupcake Boy" staring Southern Belle diva Della Rae (L. Celeste Weathers – a lethal combination of Oprah and Paula Deen).  Ben falls for her assistant Stacey (Jeannine Frumess) who wants her own show – she's fed up with Della's fakery in the bakery.  But Stacey doesn't like Ben.
At a party where everyone is pretending to be someone else – not who they are, Ian meets Stacey and they connect sort of and Ben is jealous and persuades Ian to let him be Bradley Cole resulting in some mighty fine complications.
Blaire Baker, Kimberly Chatterjee, Tauren Hagans, Jeffrey Funaro, James Parks and Zilong Pu comprise the talented and individualistic ensemble.
Hopefully this musical will find another home after FringeNYC where tweens should flock to see it – for its upbeat and positive outlook on life today with and on the internet.
www.BradleyColetheMusical.com  Photo:  Geoffrey Goldberg
Visit www.TalkEntertainment.com
Tags: No Comments