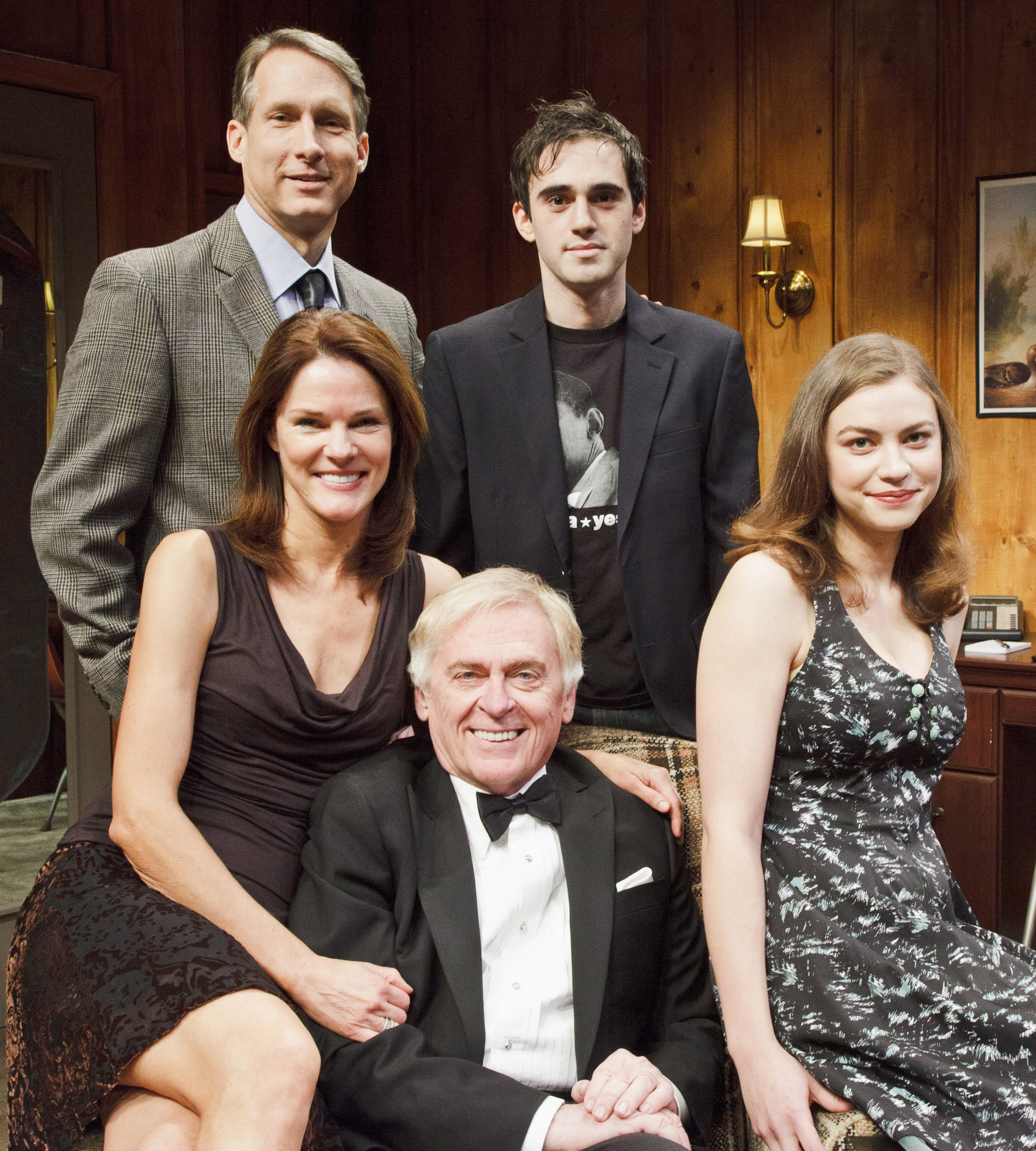 A. R. Gurney has hit the jackpot with his new comedy "Black Tie" which has just opened at Primary Stages.  It is ninety minutes of heartfelt hilarity.  Running only through March 20th I suggest you get your tickets immediately for a delightfully fresh look at three generations of men who have to deal with a wedding rehearsal dinner.  The groom.  The father of the groom.  And his father.  Where good old fashioned WASP manners and traditions collide with today's mentality about marriage.
If there is anyone who can bring the WASP sensibility roaring into the 21st Century and questioning its perhaps dated values and making us laugh at both sides of the coin it is Mr. Gurney.
Whether or not to wear his father's recycled retailored tuxedo at his son Teddy's wedding which is to take place in a second rate hotel near the Southern tip of Lake George and the Adirondack Mountains is only one of the problems that besets Curtis (Gregg Edelman) as he begins to dress and to try to conjure up what he is going to say as a toast to the couple.  
What is conjured up instead is his deceased dad (Daniel Davis) the epitome of old guard elegance to give his expert advice on manners, what to wear and what to say and how to say it.  Of course, as in Blithe Spirit, only Curtis can see and hear the apparition which adds to the fun.  It's a theatrical device that works here 98%  of the time. 
Mimi (Carolyn McCormick) his wife and his father never got along and she feels that Curtis is becoming more and more like him by the minute.  Their ironic daughter Elsie (Elvy Yost) who has a modern live in arrangement with her boyfriend attempts to smooth things over as more and more complications arise that threaten to upset the wedding foremost being the arrival of the best friend of Maya (the bride to be) who is a Jewish stand up comic.  Maya herself is of mixed heritage.  And I won't give any more of the details away.
Mr. Gurney adds some literary, political and racial comments into the mix.  All to amuse rather than to upset and the humor builds and builds as Teddy who has been swimming naked in the pool with both male and female friends invited for the occasion begins to doubt if he is doing the right thing.
Doing the right thing is different for all those involved.  It is the clash of the old values in a new world that makes Black Tie so deliciously fulfilling.  The ensemble is first rate.  Perfect, in fact.  And expertly directed by Mark Lamos.  It's quite an evening.
www.primarystages.org  Photo:  James Leynse
Tags: No Comments