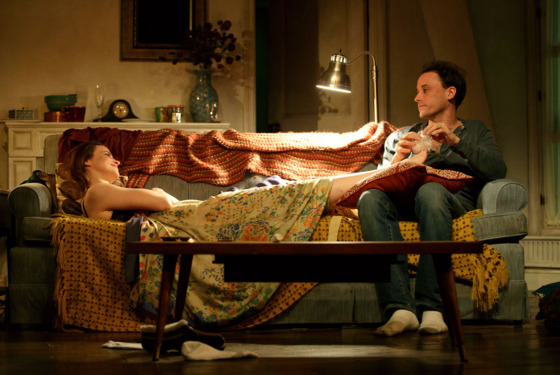 At the couldn't-come-fast-enough conclusion of Amy Herzog's newest foray into drama BELLEVILLE being presented by The New York Theatre Workshop, Amina (Pascale Armand) the French/Senegalese wife of Alioune (Phillip James Brannon) is on her hands and knees scrubbing the floor as her husband collects items in the recently vacated apartment of their rather strange tenants – a young married American couple with multiple problems Zack (Greg Keller) and Abby (Maria Dizzia) – exclaiming under her breath "incroyable" with the intended translation of "unbelievable".
I couldn't agree more.  Heralded at Yale in 2011 – this commissioned piece has gone through multiple revisions and drafts.  The resulting BELLEVILLE is unconvincing and unsatisfying, hardly the psychological nail-biting thriller promised with characters that are unlikable, medicated and reliant upon pot and sex to solve their many tribulations.
It's Christmas time in Paris and a disturbed and jumpy Abby unexpectedly returns home with her Yoga mat (she teaches) and an armful of gifts for her family back in the States where her sister is awaiting the imminent birth of a baby only to discover Zack watching some porn on his laptop in the adjoining bedroom and well doing what comes naturally when watching porn. 
He has stayed home from work and thus starts the at-home with Zack and Abby story complete with carving knife, locked bathroom door, stubbed toe, red herrings, pot smoking, problems with their work visas, naked butt, blood and a lot of blank stage time with the obviously impatient audience waiting to see how all this will turn out., which really isn't worth the time or energy exerted.
The landlord gives them an ultimatum as they are four months in arrears with the rent.  I don't think any French landlord would wait four months before speaking up – anyway he shares in the pot smoking with Zack.
Zack and Abby hold back truths from one another and they slowly share them with us in one of the most agonizing afternoons I've spent at the theatre.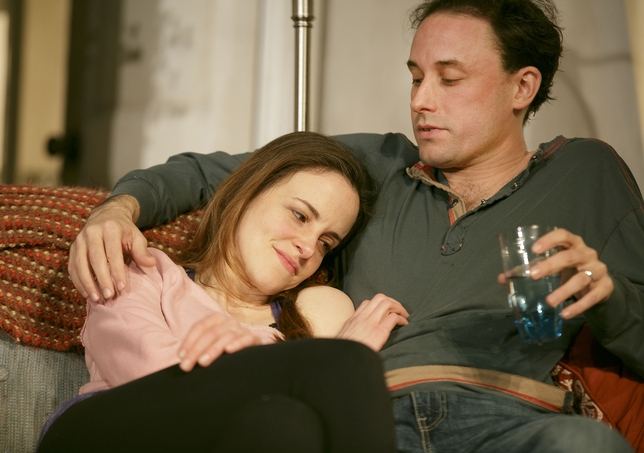 Of the four, Pascale Armand stands out as the level headed feisty wife of the landlord giving an interesting bi-lingual performance that at least holds our interest for the short time she spends on stage.
The set (Julia C. Lee) costumes (Mark Nagle) and lighting (Ben Stanton) do not help at all under the lackadaisical direction of Anne Kauffman.  BELLEVILLE is hardly up to the high standards and past productions of The New York Theatre Workshop. 
Through March 31st.
Photos Joan Marcus
Visit www.TalkEntertainment.com
Tags: No Comments