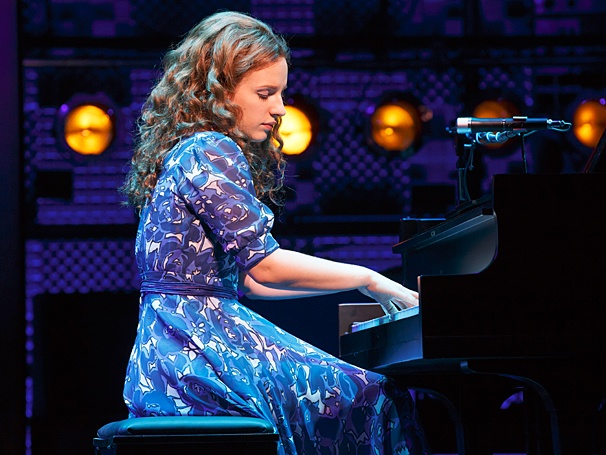 Can a sharp sixteen year old Jewish girl from Brooklyn find success as a songwriter in New York City as well as become a loving wife and mother living a normal life in the suburbs?  If she is Carole Klein aka Carole King she will – to some extent – but it will take a lot of work and luck and heartbreak along the way as well as going against the wishes of her mom Genie Klein (a formidable Liz Larsen) to pursue Mozart and become a teacher.
And with Jessie Mueller portraying her – embodying every beautiful aspect of her personality you will be mightily entertained by this new musical BEAUTIFUL is which Ms. Mueller takes stage at the Stephen Sondheim Theatre and becomes a radiant new star on Broadway in a performance that will be hard to forget and will be remembered forever.
Jessie Mueller has an honesty and vulnerability that touches our hearts immediately.  A sly tentative smile.  A spunky spirit.  Adorable.  Insecure.  With natural instincts as an actress that seem as if she is not acting but is Carole King herself.
You will wind up falling in love with Jessie Mueller portraying Carole King whom we already love for her remarkable talent for writing memorable hit songs and performing her own catalog in person and on records.
With a book by Douglas McGrath that is unexpectedly funny, romantic and out of necessity concise – covering so much territory – we follow her initial audition for Don Kirshner (all business Jeb Brown), her meeting and partnership with Gerry Goffin (a fine but troubled Jake Epstein) her friendly competition with Cynthia Weil (an excellent Anika Larsen) and her hypochondriac partner Barry Mann (an amusing Jarrod Spector) and her rise to fame writing for The Drifters – The Shirelles – Little Eva – The Righteous Brothers and The Monkees.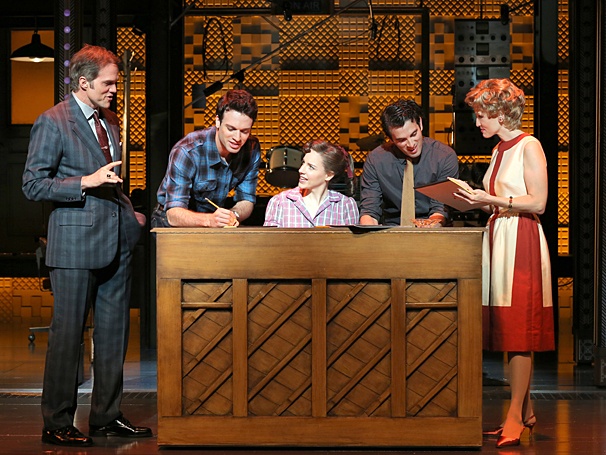 Director Marc Bruni along with choreographer Josh Prince keep the action moving swiftly along  on the cinematic set by Derek McLane, spot on costumes by Alejo Vietti (who has to have majored in magic with some of the quickest changes ever seen) and great lighting by Peter Kaczorowski.  I wish I could say the same for the sound by Brian Ronan that starts the show with a deafening roar until it settles down with Ms. Mueller quietly playing her grand  piano at Carnegie Hall before flashing back to tell her amazing story.
Almost every song (words and music by Gerry Goffin & Carole King – Barry Mann & Cynthia Weil)  is a standout and one wishes that BEAUTIFUL could go on forever – which it almost does – at two and a half hours.  But to hear the songs that some in the audience audibly remember is wonderful and a new generation of people can now begin to appreciate.
The choreography for The Drifters and The Shirelles is a time capsule of the style that defined the early 60's but with a contemporary edge that is exciting to watch.
But the songs, all those incredible songs are truly terrific.  "Will You Love Me Tomorrow?"  "You Make Me Feel Like A Natural Woman"  "It's Too Late" mirror the thoughts and feelings of what was occurring in Carole King's life specifically and beautifully.  And there are many more.
As Carole King leaves her friends to set up shop in LA to record her famous TAPESTRY album she sings a parting song "You've Got A Friend" that is the most simple and moving show stopper ever.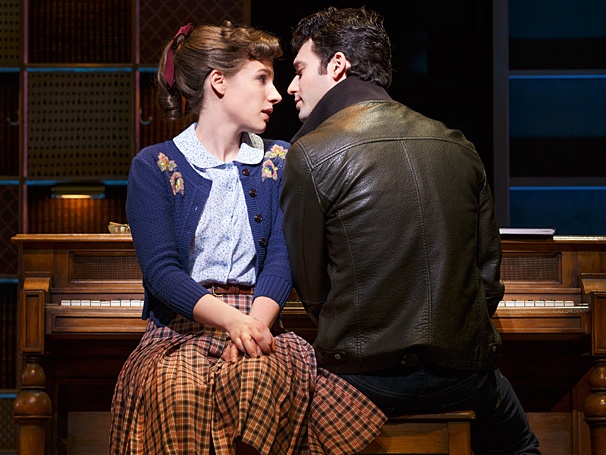 You cannot help but love this production.  Go.  Be entertained.  And be uplifted by the spirt of Carole King, Jessie Mueller and company.
BEAUTIFUL is a sure fire crowd pleaser – great songs and spectacular performances.
Photos:  Joan Marcus
Visit www.TalkEntertainment.com
Tags: No Comments